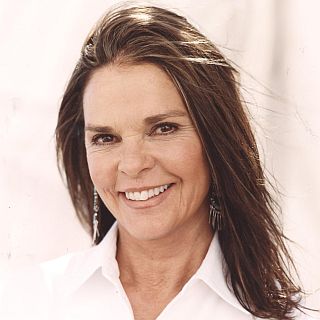 "Every one of us has to pick our own way through the land mines of life — no one can or should do it for us. Sometimes the most extravagant pain is the gateway to something incandescent."
Ali MacGraw is an internationally known, award-winning actress, author, and activist. She starred in the critically acclaimed and international blockbuster hit films Goodbye Columbus, The Getaway, and Love Story (for which she received a Golden Globe award and an Academy Award nomination), the epic miniseries, The Winds of War, and the popular TV series Dynasty, among many others. Her autobiography, Moving Pictures, was an international bestseller, and her yoga video Ali MacGraw Yoga Mind and Body was a bestseller upon release and is still popular more than a decade later. She is the mother of filmmaker Joshua Evans and currently lives in New Mexico. She travels extensively, appearing in documentaries and working on behalf of numerous social, animal, and environmental causes. In 2008 she received the Luminaria Award from the Santa Fe Community Foundation, and the New Mexico Governor's Award for Contribution to the Arts.
The Interview
I was on a plane reading the March 2010 issue of Vanity Fair when I came across this terrific article on Ali MacGraw and felt I had to try to contact her. When we finally spoke on the phone, she was just as wonderful as everyone says. Her epiphany had happened six months before and she had not discussed it with many people, so I feel very honored that she was willing to share it in the book.