I'd never put much credence in Vision Boards (this is a link to a great article about them) but I kept hearing how amazing things were happening for friends of mine and reading about them so I thought, "What the hey – I need all the help I can get at this point." I had been working for almost an entire year developing the Epiphany Project. We were about to submit the book proposal to publishers and I had no idea what would become of me. So I did a Vision Board and put images of things on a piece of poster board that I desired or wanted to happen, just as my friends and Martha Beck instructed me to do . WITHIN DAYS, things started materializing…it was wild!  And within a month, I had a book deal for Epiphany with a major publisher (Random House) who wanted the book to be exactly the way I'd always envisioned it and for the exact advance I knew I had to get to make it happen.
Check this out: (Note: These are not great photos ahead, but I think they're decent enough that you'll be able to see what I'm saying. And I don't know why my mock up Epiphany Book Cover is torn, but again, you'll get the gist.)
This is what I typed/mocked up and put on my Vision Board: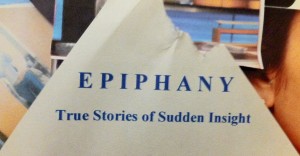 And this is what the cover of the galley of my book looks like: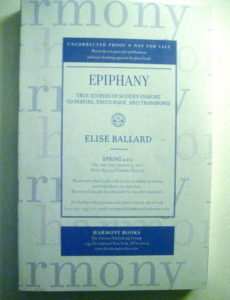 IT'S THE SAME FONT AND PRETTY MUCH THE EXACT SAME BLUE AND ORIGINAL  TITLE.
THE LESSON LEARNED:  Don't be so impatient and such a worry-wart, silly grasshopper, things eventually come around. (And VISION BOARDS work!)
I've probably done about 3-4 Vision Boards throughout years now and things always happen from them. I always recommend at least trying VISION BOARDS  – even if it's just to see what happens…Why not?  Encourage the magical aspects of life – it makes it all that much more exciting and fun.