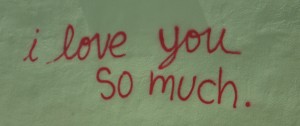 "For it was not into my ear you whispered, but into my heart.
It was not my lips you kissed, but my soul." 


– Judy Garland
When people ask me about the major themes of epiphanies, there are many: healing, forgiveness, discovering a calling, coming of age, to awaken to a new direction in life are all examples of themes that occur often in epiphanies. But if you want to boil every epiphany down to its very essence, they are all always really about some form of LOVE – love of self, love of others, love of the Divine, love of one's work, love of community, love of the world-at-large.
Since today is a day that celebrates love, especially romantic love, I wanted to share a few of my love inspirations:  a photo of a message on a wall of a favorite coffee shop of mine in Austin, TX; a quote of Judy Garland's (both of those above); a favorite sonnet; a new favorite book and tips for a successful relationship that it contained; and an excerpt of my interview with Dr. Michael Roizen, founder of RealAge and partner of Dr. Oz on numerous best-selling books.
Michael realized that no matter how successful he might become or already be, none of it mattered (nor could he have accomplished it!) without his wife, Nancy. Then he realized that that was true about all relationships and that it's not career and all the success it brings with it (ie: money and fame, anyone?) that is "the thing" in life. People, relationships, LOVE are "the thing."
Today is a great reminder to celebrate and honor all our loved ones and relationships,  whether romantic or not, and express our excitement and gratitude for them — all the time.
What are some of your inspirations about love? What is your greatest epiphany about love? We'd love to hear….
Sending love and gratitude to you, my readers, and wishing you all a very Happy Valentine's Day!
1.) One of my all-time favorite sonnets:
Let me not to the marriage of true minds
Admit impediments.
Love is not love
Which alters when it alteration finds,
Or bends with the remover to remove:
O no! it is an ever-fixed mark
That looks on tempests and is never shaken;
It is the star to every wandering bark,
Whose worth's unknown, although his height be taken.
Love's not Time's fool, though rosy lips and cheeks
Within his bending sickle's compass come:
Love alters not with his brief hours and weeks,
But bears it out even to the edge of doom.
If this be error and upon me proved,
I never writ, nor no man ever loved.
– William Shakespeare

2.) 6 Phrases to Always Say for A Successful Marriage/Any Relationship
(directly excerpted out of the most beautiful book of oral histories, All There Is by the StoryCorps Project. If you don't know what that is, you must go check it out and read my blog about it on Positively Positive.)
1.) You Look Great.
2.) Can I Help?
3.) Let's Eat Out.
4.) I Was Wrong.
5.) I Am Sorry.
6.) I LOVE YOU.
3.) Michael Roizen's Epiphany from my book about his wife, Nancy.
"It isn't career that's 'the thing' in life.
People, relationships, LOVE are 'the thing.' "
– Michael Roizen, M.D.

About five years after RealAge was started (the result of my other major epiphany in life), I had been married twenty-six years at that point and our youngest child had just gone off to college. So both of our kids had moved out. I should have realized this a long time before, but all of a sudden I realized just how important the choice of your spouse or life partner is to life. I had always realized it's nice to have a great wife—a wife whom you're attracted to and whom you respect, who does great things, and who brings up kids with you, and so on—and maybe it's part of my background, but I had never realized that it probably outweighs everything else in the quality of life and the quality of your happiness. It wasn't a particular instance that happened, but I just realized how lucky I was and how easy life was because my wife, Nancy, was so wonderful.
I realized that Nancy had made everything work so that I could be successful, and I suddenly realized how relatively unimportant my career is compared to her. It is the major relationship in my life that is the most fulfilling thing and what makes life so wonderful for me.

This epiphany about my wife has, in turn, affected all my relationships because as a scientist and doctor building up a career in science, you work very hard and can get "married" to your work. Sometimes you tend to think of relationships as not being quite as important as the career. But my career could go to heck, and it wouldn't really matter—it isn't career that's the thing, people are the thing. Even in terms of my colleagues, like my relationship with Mehmet Oz, our friendship is much more important than a lot of other things. I was fifty-three and had been married twenty-six years before I realized all this, so it took me a while to realize the obvious, right? I'm a slow learner—but better late than never!
Michael Roizen, M.D., is co-founder of RealAge and chairman of the RealAge Scientific Advisory Board. He has been listed in the Best Doctors in America since 1989, and his wife, Nancy, is a developmental pediatrician, also listed in the Best Doctors in America, and together they have two children. (
www.realage.com
) To read/see more about Michael Roizen and our interview,
you can go here
.