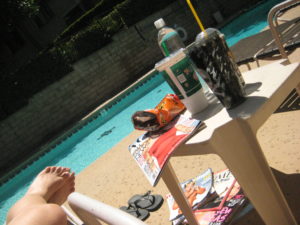 "We have the power to challenge and redefine beauty every day through our words and actions." ~ Ben Barry 
Ah, summer is in full swing now. Graduations and commencement addresses are behind us, vacations, bar-b-ques, parties, fireworks, maybe a summer romance or two, 4th of July, beaches, pools, and of course, bathing suits are all part of the summer experience. I don't know about you, but the whole bathing suit part has always caused consternation for yours truly — even when it shouldn't have. Not at all. Now I know. Part of being human is having perfect 20/20 hindsight and many of us say "we wish we would have known then what we know now" –  and one thing I know now is that several years from now, I will look back and realize that I was still young (because I will be older than I am now), and therefore will go ahead and enjoy where I am now and embrace it wholeheartedly. (I actually had this epiphany while listening to beautiful, powerful older women talk about how they wish they would have known how young they were in their 40's and 50's!) I never knew to do this when I was younger and therefore spent a lot of time being upset with where I was and with myself and wanting to be older or younger, always thinner, firmer, with better hair, better skin, better teeth, prettier feet, whatever … nothing was ever good enough and then I realized that I was never enjoying myself and had missed out on a lot of being young and actually being in fairly good shape all the way around. So finally, I am learning to accept my body and looks just as they are, do the best with what I have, not compare myself to others and stop focusing on what is wrong with everything of mine. It's hard, especially in our culture and especially when my summer fun includes hanging by the pool with Cheetos, Big Gulps and lots and lots of fashion magazines. (Yes, well, what can I say — I grew up in Texas, home state of the Big Gulp, very hot summers and lots and lots of swimming pools.)
At the ripe old age of 14, Ben Barry had an epiphany about beauty and how the fashion industry, thus corporations, have been defining what beauty is for all of us on some level. Unfortunately, this becomes a problem when many of us are not almost 6 feet tall, size 0 Caucasian women with perfect complexions and thick, amazing hair. This realization led him to open one of the first extremely successful "real people" modeling agencies and has taken him on a journey to influence companies who bombard us with advertising to find alternative ways to express and redefine beauty in our culture. He explains we can all be part of understanding that we all are uniquely beautiful and we can accept and even define beauty for ourselves. Ben is funny and passionate and a champion for us all — especially for those of us who have dreaded putting on a bathing suit every summer. I'm leaving for the beach tomorrow and have the least amount of trepidation I've had about my bod in a bathing suit ever. (And it's not because I'm in the best shape I've been in either…) So thank you, Ben!
HOW DO YOU DEFINE BEAUTY? 
Beauty is about variety—a variety of ethnicities, sizes, heights, ages— and also spirit, character, energy, spark, excitement about life, expression, and emotion.
~ Ben Barry
Ben's Epiphany
Thirteen years ago, I was a freshman in high school in Ottawa, Canada. I was like any other normal teenage boy in Canada— going to school, playing hockey, and hanging out with my friends. One night I was at my friend's house, and she had taken a modeling course and was showing me photos of herself. She wanted to model, but the agency she was with said she had to lose weight. She was a size eight, and they wanted her to shrink herself down to a two. Neither she nor her mom thought that was possible. Going over the photos, I thought I could see them being used in a magazine or on a billboard. So I said, "Well, if your agency's not helping, I think you would be great. Why don't I take your pictures and send them off, and see if I can help get you a job?"
Of course she laughed. "Ben, what do you know about this business? If the professional agency said I can't do this, I don't think you know any better."
"It can't hurt. At least let me try." So she gave me her photos.
In Ottawa, I found the name of a local magazine, and sent the fashion editor these images of her with a note saying, "Dear Editor, I think this model would be terrific in your magazine. Please call me." I signed my name and put down my parents' phone number. I sent it off and that was that. I didn't honestly think very much of it.
A few weeks later I was having dinner at the kitchen table and the phone rang. It was the editor from that magazine, and she wanted to book my friend for a back-to-school shoot! Then she said something like, "I'm not sure who you are, but I'm assum- ing you're her agent." I didn't really know what I was, but I agreed, and then the editor wanted to fax me the contract and asked me what the name of my agency was. Well, my name was the first name that kind of popped into my mind, so I told her it was called the Ben Barry Agency. And that's how my company, the Ben Barry Agency, started—when I was fourteen years old and I honestly knew nothing about fashion, beauty, or modeling. Or so I thought.
My friend became a working model and sent her friends to me. Pretty soon I was operating out of my parents' basement. I would do it after school. I would pick up messages on the phone at lunch, and during my breaks I'd return calls. A year into it, I had about thirty-five models. Most were my friends, all girls.
When I hit fifteen, I started to think I really should learn more about the industry. It's not like there was some book you could read on how to be a modeling agent. My family was plan- ning a trip to Toronto for spring break, so I decided to try to meet with modeling agencies to learn more, introduce myself, and show my portfolio of models. Everyone pretty much blew me off once they met me and realized I was fifteen. Many of them told me to call them when I graduated and they'd give me an internship. But the last agency I met with was called Elite Model Management—one of the largest agencies in the world.
I met with their vice president, and he wasn't fazed by my age at all. He looked at all of my models. He showed me the photos of all the models he represented. One of the things I noticed was that all his models looked identical. They were all primarily five-nine or five-ten. They were all between the ages of about fifteen and twenty-one, size zero to a size two, and they were all primarily white. He said he'd be happy to mentor me. All this was so exciting. I went back to my basement office in Ottawa and started to think about what he had taught me.
When I went back home, I decided I didn't want to give everyone I was representing false hope. I didn't want to tell them they could make it as models if the industry just wanted this one particular look, which they didn't have. I let 95 percent of the people I was representing go. I felt terrible doing this, but I didn't want to play with their dreams.
I then spent about another year recruiting the type of model that was this "fashion beauty ideal." With my Elite mentor's help, my models started working in Toronto, New York, and Europe, and then something huge happened—one of my models booked an eight-page spread in Seventeen magazine.
Now, this was super-exciting because it was a magazine all my friends read, and this meant I really, really had made it. When the magazine came out, I was with my friends having lunch in our high school cafeteria, and as we were eating, one of my friends pulled the Seventeen issue out from her bag and passed it to me. I probably had a smile that was a mile and a half wide. I quickly flipped open to the pages of my model and showed it to everyone. And all my friends were very supportive and excited for me and commented on how beautiful the pictures were. But very quickly their comments started to change. They started say- ing things like, "That's a really great skirt, but it would never look right on my legs. It would make my thighs look huge." Or "She has like no fat on her. I could never wear that top." "It's a great shade of foundation, but it wouldn't work with my complexion." And so on.
I started realizing that although they knew nothing about her, a lot of my friends were turning this woman into a role model, comparing themselves to her and then putting themselves down. That was ridiculous for many reasons: this model had other peo- ple dress her and make sure her clothes looked perfect during the shoot; she had hours of hair and makeup, had studio lighting and was airbrushed…not to mention the fact they had no idea who she was as a person. But it didn't matter. It didn't matter that they had different bodies, different priorities, and different complexions. All that mattered at that moment was that they didn't look like her.
I was sitting at the cafeteria table observing my friends, realizing this, and something rumbled in my stomach. In my gut, I could feel that something wasn't right. My excitement began to sour.
It took me about a month. I showed the magazine around and got the same reaction. Most of the people were comparing themselves and then making really harsh comments about their own bodies, faces, and everything about themselves because they didn't resemble that model in the picture. After I'd talked to maybe 150 people, I had the confidence I needed to change what I was doing. I knew I didn't want to continue to hurt my friends' self-esteem. Besides, they were the people buying the products the models were advertising! It didn't make sense that they felt excluded and inferior instead of inspired and empowered.
So that moment at the cafeteria table, when I first showed off the magazine, changed everything. I realized I was caught between two worlds. On one hand, I was in the fashion industry, part of creating the images that wallpaper our visual world. On the other hand, I was still in high school and could watch my friends react to those images. The impact they had was not what I'd intended or desired, and it was not the impact that I wanted to continue to make in the world. So I decided to change things.
I went back to everyone whom I had let go the year before from my agency and asked them to sign again. I told them that I wanted to change the way the industry works, and I'd like them to help me do that. Once again, I had a group of models that reflected all different sizes, ages, backgrounds, and abilities, as well as traditional-looking models. The idea was that beauty is about variety—a variety of ethnicities, sizes, heights, ages— and also spirit, character, energy, spark, excitement about life, expression, and emotion. 
When I started sending out all the new pictures, everyone rejected my models, saying they were "too real." I responded, say- ing that having everyone look at this traditional fashion beauty ideal was hurting people's self-esteem. The overall response from designers and advertisers was, "We're sorry. We don't want to hurt anyone, but that's not our problem. What we're doing works. What we're doing is making money."
I saw my mistake. I had been using the language of social responsibility, trying to explain what had happened when my friends saw Seventeen magazine and how that impacted their body images and self-esteem. Now I realized that I had to use the language of business. So I started asking my clients about their customers. I asked them to think about what would happen if the consumers saw a model wearing an outfit, and the model was their size, their age and background, and they liked what they saw and could actually identify, because they could imagine what that outfit or what that makeup shade would look like on them. Finally some clients started to pay attention, and people started to hire my diverse models.
At this point, I graduated from high school and went to college in Toronto—and, of course, my agency went with me. We've steadily grown and are one of the only agencies out there that focuses on having a diverse group of models. I've started to talk about how the industry can change, and also what consumers can do to help make that change.
Some major corporations have caught on to this movement of diversity of beauty—for instance, Dove, Glamour magazine, and designer Mark Fast. But when you look at Vogue, Harper's Bazaar, Elle, or big designers like Versace, Ralph Lauren, or Dior, they still use the same models in their shows. The ads still primarily look the same. It wasn't enough to have case studies. Dove wasn't enough. A small emerging designer wasn't enough. I realized we need hard-core empirical evidence to convince the executives that there is a change in the mind-set of consumers, that people do crave authenticity. To convince these huge national brands, I've decided I need to provide research.
So right now I'm working on my Ph.D. at Cambridge and conducting research in eight different countries to see if women will increase their purchasing intentions if they see someone who reflects their age, size, and background, as opposed to a traditional Western beauty ideal. The evidence is very clear that women do want to see people in advertising images reflecting the reality of who they are. My research will, I hope, help change the way the industry considers beauty, and also make advertising more exciting, instead of dispiriting, to the consumer.
Fashion is fun. It's about play, experimentation, and expressing different facets of who you are. It should not be seen as a critique of your body or yourself. Nor should it make you feel bad when you look in a mirror. It should make you look in a mirror and feel empowered, self-confident, and playful.
We have the power to challenge and redefine beauty every day through our words and actions. I love my work. I love it because I believe in it. I believe beauty belongs to all of us, and I will never stop pushing to expand the ideal of beauty until it is an authentic and empowering reflection of all of us.
WHAT ARE YOUR REVELATIONS ABOUT BEAUTY?