"Don't wait to live YOUR life — the life that you truly feel called to live,
not the one anyone else wants or feels they need you to live.
Live your life now and live it to its fullest and utmost potential — with purpose, joy, and the greatest conviction." ~Gina Clapprood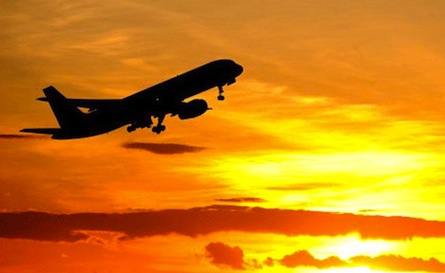 Have you ever faced a moment that could mean the end of your life? Unfortunately (and fortunately), sometimes it takes crisis to bring us our greatest epiphanies and wake-up calls. Today's Epiphany Channel story is about one of these type of moments. Thanks to  Gina Clapprood for submitting her story. 
***
I am a Sales Director for an incredible company I love called Qivana. This past spring I attended the Qivana National Convention weekend in Atlanta, GA, and while there, I was surrounded by some of the best people I have ever met. It's an amazing feeling to know that you are part of something big. Huge. Bigger than you. Something that is going to create a ripple effect around the world. Something that is going to enable you to live a life of liberty and purpose and, most importantly for me, leave a legacy. Excitement was running high. I had been away from my family (my husband and two young boys) for a few days though, and I was ready to get back home. 
As I was boarding the plane to return home to Rhode Island, the barcode label on the ticket scanner caught my eye. Yep. There were the famous numbers for me: "8 3 0." (See my first epiphany.) I still see these numbers all the time, and when I do, I remind myself that I am in the right place at that time, and that I need to check in and come back to my center. So after seeing this "830" as I walked on the plane, I took it as a good sign and thought, "I am in the right place at the right time, and all is okay." I felt great.
Forty-five minutes into the flight, the pilot came over the intercom, "Attention all passengers…," and we couldn't make out the rest of what he was saying. People started looking at one another and asking questions. Finally a flight attendant told us that there was a problem with the plane. What?! We had to make an emergency landing – which meant back to Atlanta, the closest airport — now 45 minutes away!
Deep breaths and calm in a crisis is apparently not how I roll. In that moment, I lost it. I felt this weird swirling feeling coming at me in all directions–it was like every thought I could possibly have flooded me at that very moment. I started to cry, letting my mind wander to the worst-case scenarios. I am one of those people who isn't afraid to fly, but I don't care who you are — if suddenly you're informed the plane you're on is making an emergency landing while flying thousands of feet in the air, you will experience some fear.
Each time I travel, which isn't very often, I have this "thing" where I make sure I see my family and say good-bye. I don't make a big deal about it–it's not like I believe I won't be back–but just in case, I like to do it. So before this trip I spoke with everyone in my family, but my mom and sister wanted to see me, and we just couldn't make it happen with all of our schedules. I sat there sobbing, thinking that if something happened, my mom and sister may think about that for the rest of their lives. I texted my husband, mother, father and sister…not really knowing what to say…but I told them I loved them. I wasn't even sure they would ever even get the message. I also panicked because I wasn't going to be able to talk to my boys. They had wanted to talk to me earlier and I was in the middle of boarding the plane and couldn't answer. Here came my guilt and regret. And even more tears. A lot goes through your mind in this kind of moment.
Then, my epiphany happened. I started to think about my obituary — I know, call me "Mrs. Morbid," but I did. And in that moment, I felt angry and frustrated. Completely freaked out. It's hard to really even put into words. I thought to myself, "I AM NOT DONE YET!"
And that was it. I realized definitively in that moment that I am meant for more. So much more. I would be damned if my obituary was going to be anything but amazing! In that moment, I felt my Definite Major Purpose and if given the chance, I was going to make that Purpose my reality and my life. I have written it out now and read it every day, focusing on my hopes and dreams and believing they are going to become my reality. There is nothing more motivating than the fear of dying.
After what seemed like an eternity, the flight landed, and then I heard that voice.  The same voice I have heard in my dreams before. Only this time I was not dreaming, but the voice was in my thoughts somehow. It said, "Now go back." It's a very calm and soothing voice, and immediately I felt much better.
I keep thinking of those words, "Now go back." In trying to interpret this meaning other than the literal meaning, I have realized this: The first plane I boarded to get back home was simply to take me back to my everyday life. The second plane I had to board after our emergency landing was a flight that was taking me back to my more purposeful life.
This puts everything in perspective for me. It's a life-changing perspective. I know that I have so much to share and that I am going to make a difference in so many lives. I whole-heartedly know this with all of my being.
Elise Ballard says (and she talks about this in her book, Epiphany, and in classes I've taken with her) that when you have an epiphany and take action on it, the Universe conspires to support you. The Universe seems to have been working overtime to support me! I've known this and seen it happening, but still doubted and feared it before this moment on the plane.
Since that moment, I hope the Universe realizes that I'm "all good" now! I get it. 150%. I don't need any more signs or nudges. I'm taking action. I'm open. I'm listening and ready. I'm going to embrace what comes my way and pay more attention.
And I have to say, I truly am happy now. The other day, I was "that woman" in the grocery store humming to herself. Another shopper stopped and said, "Good for you, staying in your zone." I didn't even realize I was humming! Ironically enough, I was humming the song "Live Your Life," by Rihanna without being conscious of it.
>What I am conscious of is the fact that after that moment on the plane, I decided I am going to truly live my life – and as cliché as it sounds – I am going to live it to its fullest and utmost potential — with purpose, joy, and with the greatest conviction.
Thank you, Flight DL1163!
~ Gina Clapprood, Rhode Island