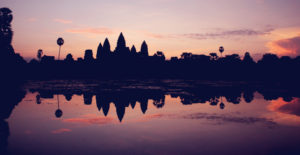 "A well lived life should not be measured by society's standards, but rather by one's own sense of fulfillment. Trust yourself."
~Kathryn Lejeune
I met documentary filmmakers, Kathryn Lejeune and Jenna Watkins, at The Giving Keys 2013 Holiday party in Los Angeles and was inspired and moved by their passion and what they're doing — and yes, they're latest project and trajectory is all because of an epiphany! I wanted to do an interview with them, but because of our schedules, we weren't able to get together to do an interview so we decided on a Q&A Epiphany Interview via email with Kathryn — the first time I've done it this way. 
This is an epiphany about career and following your passion and what your heart calls you to do and discovering you actually have the support in your life to do that. Kathryn describes what is, for her, a well-lived life. It's a good question to ask ourselves: What is MY definition of a well-lived life and am I living it? 
And an unusual thing about this epiphany is that you actually have a chance to be part of this epiphany and its Ripple Effect. 
Q & A with Kathryn Lejeune: 
What is your greatest epiphany in life?
My greatest epiphany so far has been the realization that the only expectations I should be living up to are my own, and that I deserve to go after my dreams. I was at a good industry job I had worked hard to get to, in a position that many coveted, but for some reason I was miserable. And more than that, I was beating myself up for not feeling fortunate. An opportunity came up to be in charge of my own production and, even though it was short term and offered no pay, my husband encouraged me to quit my job and go for it. I thought he was crazy. Then I spoke to my mom who said the same thing. I thought SHE was crazy. But as I brooded on what a coward I had become, I suddenly knew there could be no room for fear if I was to have the life I wanted. Now, three years later, my life may be more unpredictable, but I'm pursuing my passions as defined by me and it feels damn good.
In one or two sentences: "A well lived life should not be measured by society's standards, but rather by one's own sense of fulfillment. Trust yourself."
What was the epiphany behind or what sparked this project, Year 33?
The genesis of my film project, YEAR 33, happened 3 years ago, and the idea came while I was on a road trip across the US filming an experimental webseries about random acts of kindness. It was sparked from my greatest epiphany (above), and is a result of sitting down and really asking myself what I wanted to see happen in the world and what I could do to be a part of that.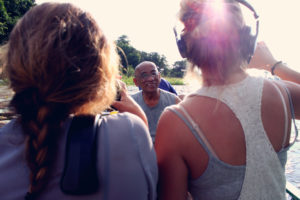 The film: 
YEAR 33 is a feature length documentary that tells the story of Cambodia's burgeoning art revival as seen in the day to day lives of three young, Khmer artists: Narim, Vanny, and Viet. It has been 33 years since the Khmer Rouge killed 1/3 of Cambodia's population, including 90% of artists, and laid to waste its entire infrastructure in an effort to build a new society. Today, political unrest and gross economic disparities have stifled development, while a rapid rise of tourism threatens to homogenize the fragile cultural ecology. However, a small but growing artistic community is rising up to reclaim what was lost by forging new traditions with the potential to empower their communities and captivate the world.
We visit the homes and workshops of each character for an intimate glimpse into the realities of life for an artist in one of the poorest countries in the world. These hardworking artists exemplify the dedication needed to catalyze change, if only they can surmount a myriad of obstacles from their past, present, and future.
What is your definition of an epiphany?
To me, an epiphany is uncovering a truth that was always there and opening one's mind to what it had been closed to previously because of fear, prejudice, or inexperience.
How do you create or cultivate "sparks" for epiphanies in your life and what would be your advice for people to help spark them?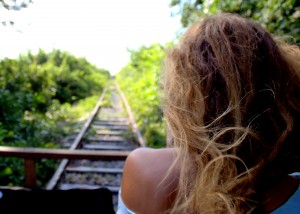 I get into a zone where I'm happy, but challenged, and let my mind go free. A lot of my epiphanies have come while cooking, actually, with a glass of wine or whiskey, and listening to good music or an audiobook. Others have occurred while traveling abroad (my favorite thing), doing something rather mundane like riding in a tuktuk or navigating a map in a language I can't understand.
Whose epiphany would you want to know if you could ask anyone in the world?
I would want to hear from anyone who has experienced the darkest that humanity can sink to, but still believes that people are ultimately good.
Why I care and hope others will too:
Our documentary, Year 33, is about an art revival in Cambodia, but it's also more than that. It's about standing up after heartache, in the midst of struggle, and declaring that darkness will be overcome by beauty and love. Cambodia's story is everyone's story, it's MY story. That's why I cried so hard for so long when I learned of the genocide that devastated a rich cultural legacy. That's why, when I heard about these artists working unbelievably hard to take back what was lost, that I risked my own career and livelihood to go and film it — because I know grief. I have had do battle with despair. I know the temptation of giving up. This art revival, coming from the ashes of profound tragedy, proves that darkness can end… and that is a promise that I will always fight for. 
***
Please check out the trailer and Kickstarter Campaign for YEAR 33, and be part of this movement and ripple effect reaching all the way out to Cambodia and beyond…
***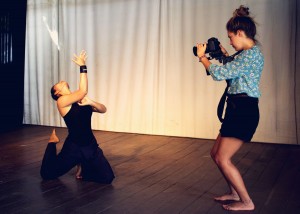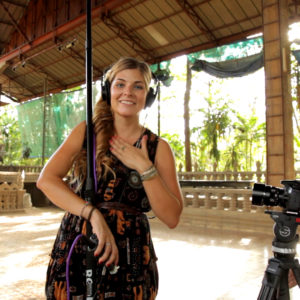 Kathryn Lejeune studied Film Production and Cultural Anthropology at Occidental College in Los Angeles before serving as Creative Director at Davis-Panzer Productions. In early 2012, Kathryn co-founded Sueño Documentary Films out of a passion to inspire the world through documentaries that catalyze positive change. She now sits on the Selection Committee of the Cambodia Town Film Festival and is the Director of YEAR 33.
Janna Watkins earned her degree in Chemistry from UC Santa Barbara and began working with clean water initiatives focusing on underprivileged communities. She co-founded Sueño Documentary Films to create thoughtful and responsible films that act as a positive force in the world. She is on the Selection Committee of the Cambodia Town Film Festival.
YEAR 33 captures Cambodia's promising art revival, where three young artists overcome the darkness of the past and inspire hope for the future. These hardworking artists exemplify the dedication needed to forge change in their communities by integrating ancient techniques with contemporary art. Through telling their stories, we aim to empower the Cambodian art scene, inspire audiences worldwide, and catalyze meaningful action to connect the two.