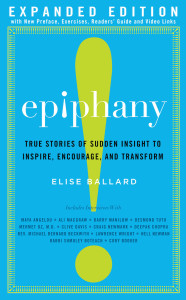 WHAT'S NEW AND EXPANDED ABOUT THIS BOOK: 
I've added a new Preface with the material I've discovered since the original hardback came out, updated everyone interviewed in the book's bios and added the links to their pages and videos on EpiphanyChannel.com.
I also put in some Exercises (I've put a few of them below for you) and the Readers' Guide that Random House provides for book clubs and discussion questions, which I think are also great for your own quiet reflection.
If you or your loved ones are looking for new revelations, Epiphany is a great way to spark ideas and moments of realization, and in this newer edition, you have more information and guidance to help cultivate and build on your epiphanies to create a more fulfilling life.
Wishing you and yours a very happy holiday season and an epiphanous new year!
EPIPHANY EXERCISE: CLARITY – USING YOUR EPIPHANIES AS TOOLS
1. It's important to honor your epiphanies and make them a tool that you're fully utilizing in your life. Maybe you already are, but this is still a great exercise for anyone to do. It's important to be very specific about your own greatest epiphany or epiphanies. Please answer the questions I ask everyone for my project—and write it out—pen to paper is best, but you can type it too.
• What is the story of your greatest epiphany in life? What led up to it? What happened in that moment? What happened afterward? Did your life change? If so, how?
• If you can, please summarize your epiphany in one or two sentences. What was the wisdom gained or the lesson learned? (This is your quote and title of the piece, as in the book.) What would you want to pass on to others? How do you utilize or cultivate sparks of epiphany?
• When you write your story out, really put yourself there sensorily. Try to really see, smell, feel, hear what was happening when you had your epiphany and write down every detail. (No one has to see these!) If you want to share them, that's great, but for now, don't worry about that, just get it out and down on paper. You may realize while working and thinking about this that you actually have had more than one major epiphany in your life. Write them all out. Telling your story has a different kind of power and is really important, but this exercise of writing them down is amazing. You will discover things you hadn't thought of or noticed before, and you will remember things you never have before, and it will probably have different meaning for you now than it did then. Just let it pour out—do not edit until it's all down on paper! 
• If you think you haven't had an epiphany, just think about some kind of realization you've had—it can be anything—the more profound and powerful for you, the better, even something as simple as figuring out math or how fun it was to kiss for the first time. Just write out the story of a moment of great revelation without any judgment on it.
2. Write out an epiphany you'd like to have.
3.Think about how you can be developing the four elements present in every life-changing epiphany—LISTENING; BELIEF; ACTION; SERENDIPITY. (There are exercises for these included for you in the book.)