Welcome to the Epiphany Channel!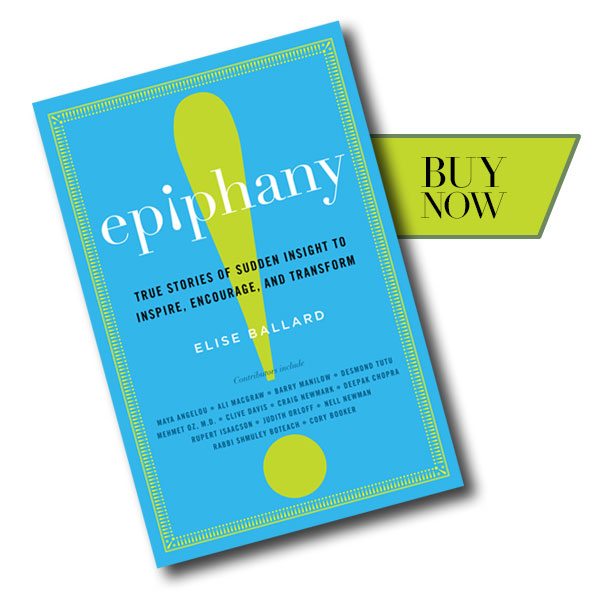 Have you ever experienced an epiphany, a life-changing moment or realization?
Elise Ballard did and was so stunned by its effect on her life that she started asking others if they had ever experienced these kinds of breakthroughs.  What began as simple curiosity led to an unexpected and exciting journey, spanning several years and the breadth of human experience. The result is Epiphany, a collection of more than 50 revelations that changed lives—and the lives of others—forever.
Inspiring, thought-provoking, and eye-opening, Epiphany contains the deeply intimate stories of people from all walks of life, from public figures like Maya Angelou, Deepak Chopra, Ali McGraw and Barry Manilow, to personal acquaintances and life-long friends, to new contacts made in the most unexpected and serendipitous of circumstances.
EPIPHANY is thoughtfully broken down into sections encapsulating similar life-changing events:
Awakenings
New Directions
Healings
Miracles
Comings of Age
Callings
Whether discovering their purpose in life, awakening to new possibilities or finding a new direction after a catastrophic set-back, each person's epiphany is a gift, providing new insight into these remarkable lives as well as your own, and a window into the universal truths that connect us all.
"Epiphany is the book to give as a gift for every present this year." ~Huffington Post
"Curl up on the couch and warm your heart with Elise Ballard's uplifting book–a WOW-read!"           ~Health Magazine
"Interesting and inspirational…for thoughtful readers in whom it is likely to trigger self-examination and the effort to listen to one's own inner voice." ~Booklist
"…a classic inspirational collection to be revisited time and time again." ~Marci Shimoff
"…on our list of favorite things to do, watch, read and share to cultivate your passions, your talents and your drive: Read Epiphany: True Stories of Sudden Insight by Elise Ballard."                                 ~Live Happy Magazine
"Elise Ballard's collection of "universal lightbulb" accounts explores pivotal moments that will inspire everyone." ~Psychology Today